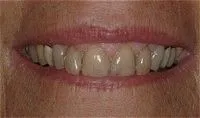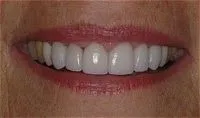 There's no reason to put up with gaps in your teeth or with teeth that are stained, badly shaped or crooked. Today a veneer placed on top of your teeth can correct nature's mistake or the results of an injury and help you have a beautiful smile. Veneers are thin, custom-made shells crafted of tooth-colored materials designed to cover the front side of teeth.
If cared for properly, your veneers will last you a long time. We ensure that your new veneers are constructed of the most durable porcelain materials available.
Procedure
The two-visit procedure begins with the preparation of the tooth. This entails removing the discolored or unsightly portion of the tooth and meticulously shaping the tooth in preparation for the new veneer. Once we have shaped the tooth, we will take an impression. This impression will be sent to a lab of the utmost quality, where your new restoration will be crafted. While the veneer is created, we will provide you with a temporary restoration. Our temporary restorations will resemble your natural teeth so that you can continue with your daily life without feeling self-conscious.
During your second visit to the office, we will proceed with the placement of your final restoration. The veneer will be fitted comfortably to your tooth. We will make every effort to ensure that the new tooth feels exactly like one of your natural teeth. The final step in the process will be to bond the new veneer into your mouth, leaving you with a beautifully restored smile.